27 April 2008
The Associated Press has an article by Martha Irvine, Social networking applications can pose security risks, that is based on Adrienne Felt's analysis of Facebook platform privacy.
Still, it's an honor system, says Adrienne Felt, a computer science major at the University of Virginia. A Facebook user herself, she decided to research the site's applications and even created her own so she could see how it worked.

Most of the developers Felt polled said they either didn't need or use the information available to them and, if they did, accessed it only for advertising purposes.

But, in the end, Felt says there's really nothing stopping them from matching profile information with public records. It also could be sold or stolen. And all of that could lead to serious matters such as identity theft.

"People seem to have this idea that, when you put something on the Internet, there should be some privacy model out there — that there's somebody out there that's enforcing good manners. But that's not true," Felt says.
(Note: there wasn't actually any "polling" of developers, just examining what applications do to determine how they appeared to use information.)
The story has been picked up by some other places including BusinessWeek, CNNMoney (From games to virtual gifts, social networking applications popular — but at what risk?), Forbes, International Herald Tribune, National Public Radio, San Jose Mercury News, Philadelphia Inquirer, Las Vegas Sun, Fort Worth Star-Telegram, Houston Chronicle, San Francisco Chronicle, Seattle Post-Intelligencer, MyFOX, and The Sydney Morning Herald.
The Colorado Daily wins the best title award for MySpace is your space (and yours, and yours…) (but its the same story).
Pantagraph (Central Illinois) has it currently as their top article and includes a picture their front page.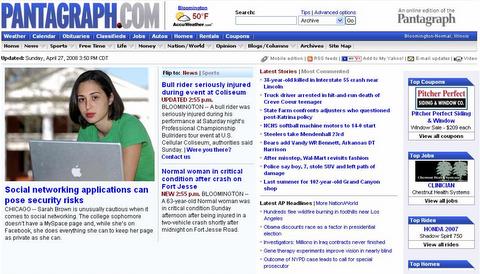 [Added 2 May] Yahoo! News has this
slide show
.
[Added 13 May] Pew Internet and American Life Project has a post on this: Securing Private Data from Network 'Zombies' by Mary Madden.